When you update Java, uncheck that box!
http://www.benedelma...s/012213-1.html
The Special Problems of IAC Ask Toolbar Installed by Oracle's Java Updates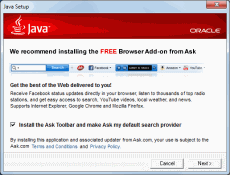 Java security update installs Ask Toolbar by default -- a single click in a multi-step installer.
Ongoing Oracle Java updates also install the IAC Ask Toolbar. I discuss these installations in this separate section because they raise concerns somewhat different from the IAC toolbars discussed above. I see five key problems with Oracle Java updates that install IAC toolbars:
First, as Ed Bott noted last week, the "Install the Ask Toolbar" checkbox is prechecked, so users can install the Ask toolbar with a single click on the "Next" button. Accidental installations are particularly likely because the Ask installation prompt is step three of five-screen installation process. When installing myriad software updates, it's easy to get into a routine of repeatedly clicking Next to finish the process as quickly as possible. But in this case, just clicking Next yields the installation of Ask's toolbar.
Second, although the Ask installation prompt does not show a "focus" (a highlighted button designated as the default if a user presses enter), the Next button actually has focus. In testing, I found that pressing the enter or spacebar keys has the same effect as clicking "Next." Thus, a single press of either of the two largest keys on the keyboard, with nothing more, is interpreted as consent to install Ask. That's much too low a bar -- far from the affirmative indication of consent that Google rules and FTC caselaw call for.
Third, in a piece posted today, Ed Bott finds Oracle and IAC intentionally delaying the installation of the Ask Toolbar by fully ten minutes. This delay undermines accountability, especially for sophisticated users. Consider a user who mistakenly clicks Next (or presses enter or spacebar) to install Ask Toolbar, but immediately realizes the mistake and seeks to clean his computer. The natural strategy is to visit Control Panel - Programs and Features to activate the Ask uninstaller. But a user who immediately checks that location will find no listing for the Ask Toolbar: The uninstaller does not appear until the Ask install finishes after the intentional ten minute delay. Of course even sophisticated users have no reason or ability to know about this delay. Instead, a sophisticated user would conclude that he somehow did not install Ask Toolbar after all -- and only later will the user notice and, perhaps, proceed with uninstall. It's a familiar tactic -- I found WhenU adware engaged in similar intentional delay half a decade ago -- but it's surprising to see IAC and Oracle stoop to this level.
Fourth, IAC makes changes beyond the scope of user consent and fails to revert these changes during uninstall. The Oracle/IAC installation solicitation seeks permission to install an add-on for IE, Chrome, and Firefox, but nowhere mentions changing address bar search or the default Chrome search provider. Yet the installer in fact makes all these changes, without ever seeking or receiving user consent. Conversely, uninstall inexplicably fails to restore these settings. As noted above, these incomplete uninstalls violate Google's Software Principles requirement that an "easy" uninstall must disable "all functions of the application."
Finally, the Java update is only needed as a result of a serious security flaw in Java. It is troubling to see Oracle profit from this security flaw by using a security update as an opportunity to push users to install extra advertising software. Java's many security problems make bundled installs all the worse: I've received a new Ask installation prompts with each of Java's many security updates. (Ed Bott counts 11 over the last 18 months.) Even if the user had declined IAC's offer on half a dozen prior requests, Oracle persists on asking -- and a single slip-up, just one click or keystroke on the tenth request, will nonetheless deliver Ask's toolbar.
A security update should never serve as an opportunity to push additional software. As Oracle knows all too well from its recent security problems, users urgently need software updates to fix serious vulnerabilities. By bundling advertising software with security updates, Oracle teaches users to distrust security updates, deterring users from installing updates from both Oracle and others. Meanwhile, by making the update process slower and more intrusive, Oracle reduces the likelihood that users will successfully patch their computers. Instead, Oracle should make the update process as quick and easy as possible -- eliminating unnecessary steps and showing users that security updates are quick and trouble-free.